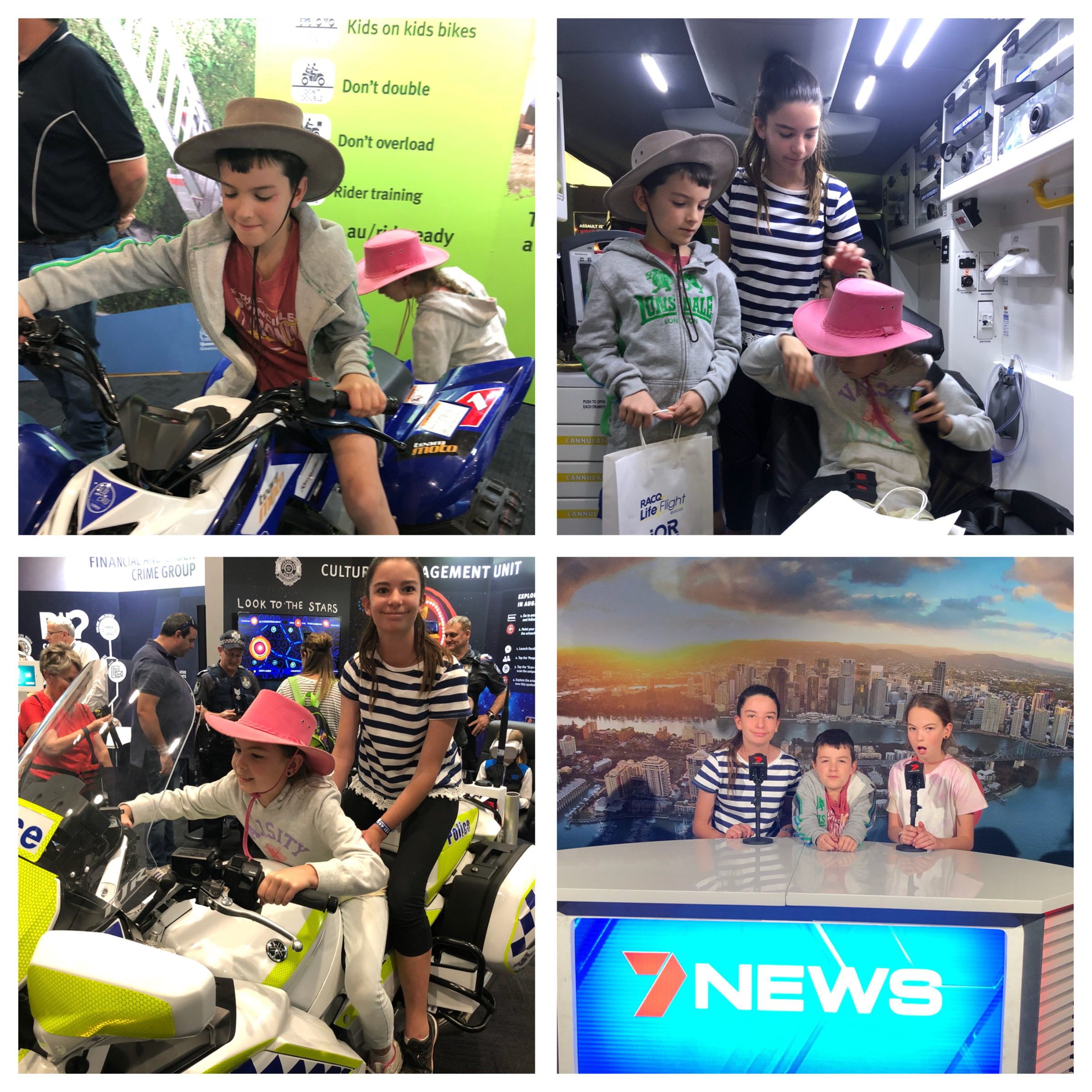 This year was the 2nd time we have done my "old style Ekka" challenge – and again it proved a total success with my three kids.

The original Ekka (Brisbane Exhibition) of "the old days" is actually still there if you are open to it. By that I mean the free sample bags, free fun, and an affordable entry price.
Here is how we did the Brisbane Ekka for $11 all up (each):

Half Price entry tickets
Subscribe to the Ekka newsletter email. They always do pre-order tickets cheap. It cost me about $40 for a full family ticket at HALF PRICE a few months ago. They even still had a 15% off discount if you got them online with a code from their newsletter, and many food outlets had 2-for-1 deals for the last day, so this is worth following.
Transport
We parked at a local train station and we all used our "Go-cards" to tap onto the train, and directly off at the Ekka station.
Kids are free if you do this but only if you use Go-Cards, and my adult ticket was only $2.40 each way.

Food & Drinks
We packed our own food so no expense there.
I make sure to take lots of food and even with the smells of fried foods all around us while we waited for the fireworks in the main arena they never once asked to buy something. They were happy munching on home made Ham & cheese rolls, and apples and other far healthier options.
Pop into the Woolies stand for the free samples during the day.
Water bottles are always free every year at the SEQ water stand, with free refill stations all around the ekka. No soft drinks for us, my kids love their water (and so do I). Not only free, but far healthier.
This year I even got a free coffee at the SEQ water stand while the kids played with the interactive stuff.
Sample Bags – Free like they used to be
I set the challenge to my kids; They have to look closely at the stands when we are walking around.
Theres always stands giving out free bags with usually a few brochures and a toy, pen, or pencils and a colouring in sheet. They keep an eye out for what else is being given away free. They tend to get all sorts of fun stuff and toys but it's purely up to the companies exhibiting each year. Usually they get them by participating with something on the stands.
My free sample bag rules are:
They cant take something without asking
They must ask very politely with their best manners
And be respectful to only take "one" when offered
If the kids break these rules I won't let them have the freebie
2 years in a row all 3 kids have come home with a bag of free stuff, and the quality is far better than the junk in the expensive showbags in my opinion, because they're usually promotional branded items designed to keep and play with (when we know most of the crap in the expensive showbags breaks the moment you get it home – I cant stand this kind of wastage).
The kids love doing this, and they feel an involvement in what they get. They tend to only take things they actually like too so there tends to be very little wastage (certainly way less packaging for the bin).
Beside the Woolies sample stand, is a Brisbane City Council stand that is usually giving away nicer re-usable bags. They're great for shopping later, and great for the kids to keep their free samples in during the day.
Entertainment
We always find the Ekka trail, and the kids have to find the stamps to complete their card. They love doing this, and these stops are often the source of many of their freebies (so usually no asking is needed – they get something as they get a stamp).
We always have to see the animals, the kids love this – and it's all free.
This year we even had some fun doing orienteering up near the old museum.
In the government pavilion they filled out a police book with stamps, a bit like the Ekka trail.
Again they had a heap of fun doing this, got lots of freebies in the process, and once completed they all went into the draw to win one of a few Playstations.
Total cost for a family of 4
One adult, three kids:
Entry $40
Train $4.80
TOTAL – Around $11 ea
My kids had a fantastic day at the Ekka, celebrating our country community and farmers. Enjoying lots of activities. They led the day's activities with only a little guidance from me. And they unanimously say they had a fantastic time (not a single complaint).
If you like this article please share it to your friends
Lets get back to making Ekka about families, celebrating our country communities, farmers, and animals