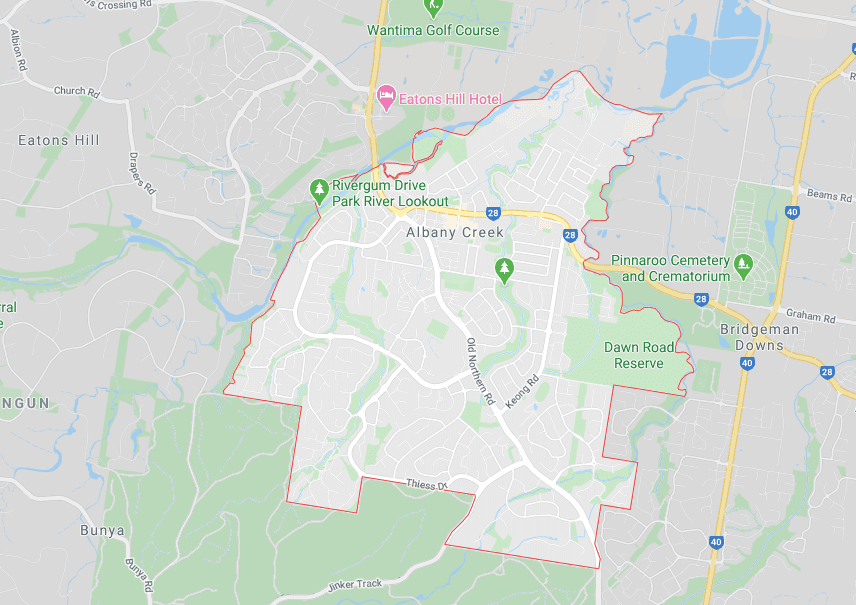 Albany Creek is located approximately 18.8 kilometres north-west of the City of Brisbane, Queensland, Australia, about a half-hour drive to the Brisbane central business district. It is positioned on a small hill which runs down to the South Pine River. Albany Creek is west of Bridgeman Downs and east of Eatons Hill. Cashs Crossing is a historic crossing point of the South Pine River. It takes its name from early settlers James and Mary Cash, who settled near the crossing point. South Pine Road now crosses the river at that point via a bridge.
Albany Creek is situated in the Yugarabul traditional Aboriginal country.
The suburb of Albany Creek was originally established on the intersection of two Aboriginal tracks. The main track formed the primary route north of Brisbane and is still known as "Old Northern Road". The second track formed a route from Old Northern Road to Little Cabbage Tree Creek in Aspley and onto Downfall Creek in Chermside. Albany Creek Road and Gympie Road now follow this second route.
Albany Creek was originally known as Chinaman's Creek before its name was changed in 1885 to honour the Duke of Albany.
Initially a rural area, Albany Creek began to develop as a suburban area in the 1960s as the Brisbane metropolitan area expanded. This led to the opening of more schools to cater for the growing population with Albany Hills State School opening on 30 January 1979, Albany Creek State High School opening on 25 January 1982
Sales & Growth Chart for ALBANY CREEK
| Year | No. of Sales | Median | Growth | Low | High |
| --- | --- | --- | --- | --- | --- |
| 1993 | 220 | $139,500 | | $55,000 | $290,000 |
| 1994 | 248 | $156,375 | 12.1% | $65,000 | $340,000 |
| 1995 | 191 | $145,000 | -7.3% | $50,000 | $450,000 |
| 1996 | 259 | $165,000 | 13.8% | $55,000 | $330,500 |
| 1997 | 329 | $162,500 | -1.5% | $7,500 | $410,000 |
| 1998 | 263 | $177,000 | 8.9% | $60,000 | $1,089,000 |
| 1999 | 397 | $179,600 | 1.5% | $68,000 | $380,000 |
| 2000 | 423 | $186,000 | 3.6% | $68,000 | $436,500 |
| 2001 | 508 | $202,750 | 9.0% | $12,850 | $485,000 |
| 2002 | 502 | $243,000 | 19.9% | $19,000 | $910,000 |
| 2003 | 393 | $302,500 | 24.5% | $78,990 | $880,000 |
| 2004 | 308 | $360,000 | 19.0% | $80,000 | $2,000,000 |
| 2005 | 363 | $366,000 | 1.7% | $170,000 | $3,300,000 |
| 2006 | 361 | $375,000 | 2.5% | $212,000 | $935,000 |
| 2007 | 362 | $435,000 | 16.0% | $185,000 | $930,000 |
| 2008 | 240 | $477,750 | 9.8% | $317,500 | $1,375,000 |
| 2009 | 289 | $480,000 | 0.5% | $188,904 | $1,300,000 |
| 2010 | 220 | $525,500 | 9.5% | $325,000 | $1,350,000 |
| 2011 | 198 | $475,000 | -9.6% | $307,000 | $2,225,000 |
| 2012 | 225 | $475,000 | 0.0% | $296,000 | $900,000 |
| 2013 | 244 | $500,184 | 5.3% | $290,000 | $1,225,000 |
| 2014 | 262 | $506,500 | 1.3% | $315,000 | $1,500,000 |
| 2015 | 235 | $560,000 | 10.6% | $320,000 | $1,200,000 |
| 2016 | 281 | $580,000 | 3.6% | $320,000 | $2,100,000 |
| 2017 | 231 | $579,000 | -0.2% | $310,000 | $3,050,000 |
| 2018 | 247 | $601,200 | 3.8% | $320,000 | $1,925,000 |
| 2019 | 203 | $618,000 | 2.8% | $398,000 | $1,365,000 |
| 2020 | 232 | $639,250 | 3.4% | $410,489 | $1,200,000 |
| 2021 | 269 | $810,000 | 26.7% | $462,000 | $3,540,000 |
| 2022 | 77 | $906,000 | 11.9% | $595,000 | $1,950,000 |
Recent Articles you might like:
VLOG – What is Off Market, and how does it work

This video explains what the term off market means within Queensland Australia. The things that impact it. And why it […]

New Real Estate office in Everton Hills

It's less than a year ago that MovedBy Real Estate was registered and started trading. In that short time we have listed a lot of property for sale and rent. And it's inevetable that with our success that we outgrew our previous premises very quickly.

Everton Park: The old Woolworths Sofles Warehouse Site

The now redeveloped big old Woolworths warehouse site in Everton Park was set on a huge site with a number of buildings on the property