Everton Park is a suburb of the City of Brisbane, Queensland, Australia. In the 2016 census, Everton Park had a population of 8,862 people.
Everton Park is about eight kilometres north of the Brisbane CBD. This suburb is predominantly residential, with more than a quarter of the population residing in semi-detached and higher density dwellings.
In the 2011 census the population of Everton Park was 8,325 people: 51.2% female and 48.8% male. The median age of the Everton Park population was 37 years of age, the same as the national median.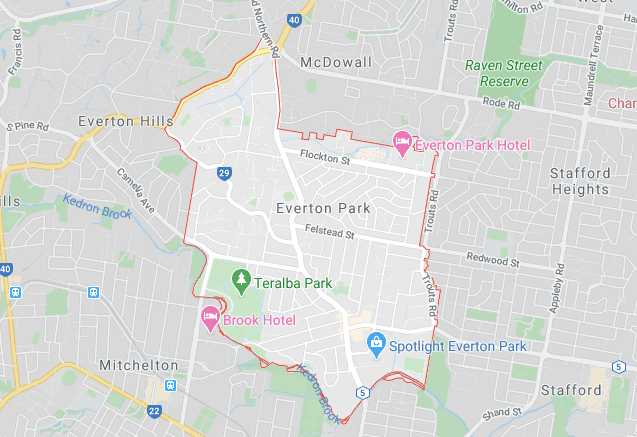 These statistics were last updated Tuesday 8th June 2021
Sales Growth Chart for Everton Park
| Year | No. of Sales | Median | Growth | Low | High |
| --- | --- | --- | --- | --- | --- |
| 1993 | 170 | $124,250 | | $53,000 | $522,500 |
| 1994 | 149 | $134,000 | 7.8% | $7,000 | $390,000 |
| 1995 | 130 | $125,500 | -6.3% | $47,500 | $435,000 |
| 1996 | 141 | $125,000 | -0.4% | $30,000 | $410,000 |
| 1997 | 161 | $128,000 | 2.4% | $12,000 | $500,000 |
| 1998 | 135 | $136,000 | 6.2% | $20,000 | $450,000 |
| 1999 | 177 | $136,850 | 0.6% | $12,000 | $899,500 |
| 2000 | 157 | $140,000 | 2.3% | $57,000 | $1,010,000 |
| 2001 | 167 | $160,000 | 14.3% | $2,047 | $465,000 |
| 2002 | 198 | $215,500 | 34.7% | $105,000 | $970,000 |
| 2003 | 182 | $270,000 | 25.3% | $110,000 | $430,000 |
| 2004 | 150 | $331,750 | 22.9% | $140,000 | $1,100,000 |
| 2005 | 159 | $330,500 | -0.4% | $158,000 | $1,750,000 |
| 2006 | 151 | $341,000 | 3.2% | $140,000 | $920,000 |
| 2007 | 175 | $412,000 | 20.8% | $137,500 | $2,350,000 |
| 2008 | 129 | $444,000 | 7.8% | $240,000 | $2,640,000 |
| 2009 | 153 | $451,000 | 1.6% | $276,000 | $1,125,000 |
| 2010 | 113 | $505,000 | 12.0% | $332,000 | $815,000 |
| 2011 | 133 | $480,000 | -5.0% | $275,000 | $740,000 |
| 2012 | 127 | $450,000 | -6.2% | $224,000 | $816,000 |
| 2013 | 139 | $490,000 | 8.9% | $247,000 | $1,125,000 |
| 2014 | 157 | $501,000 | 2.2% | $260,000 | $1,335,000 |
| 2015 | 170 | $540,000 | 7.8% | $315,000 | $1,850,000 |
| 2016 | 134 | $576,750 | 6.8% | $270,380 | $1,150,000 |
| 2017 | 166 | $590,000 | 2.3% | $330,000 | $1,625,000 |
| 2018 | 136 | $602,500 | 2.1% | $355,000 | $1,800,000 |
| 2019 | 139 | $615,000 | 2.1% | $76,666 | $1,672,500 |
| 2020 | 149 | $660,000 | 7.3% | $311,000 | $1,255,000 |
| 2021 | 41 | $700,000 | 6.1% | $525,000 | $1,720,000 |
Price Range Segmentation (Last 12 Months)
| ranges | EVERTON PARK(House) |
| --- | --- |
| <$300k | 0 |
| $300k-$400k | 2 |
| $400k-$500k | 5 |
| $500k-$600k | 30 |
| $600k-$700k | 46 |
| $700k-$800k | 38 |
| $800k-$900k | 13 |
| $900k-$1m | 11 |
| $1m-$1.2m | 5 |
| $1.2m-$1.5m | 1 |
| $1.5m-$2m | 1 |
| $2m-$2.5m | 0 |
| $2.5m-$3m | 0 |
| >$3m | 0 |
Peak Selling Periods (Last 3 Years)
| Period | Number of Sales (median) |
| --- | --- |
| Jan | 10 |
| Feb | 16 |
| Mar | 9 |
| Apr | 10 |
| May | 9.5 |
| Jun | 9.5 |
| Jul | 11.5 |
| Aug | 13 |
| Sep | 16 |
| Oct | 11 |
| Nov | 16.5 |
| Dec | 8 |
Rental & Growth Chart for EVERTON PARK
| | | Listed | | | Growth | | |
| --- | --- | --- | --- | --- | --- | --- | --- |
| Bedrooms | 2 | 3 | 4+ | 2 | 3 | 4+ | All Bed Counts |
| Q2/2017 | 4 | 22 | 21 | 370 | 400 | 540 | 435 |
| Q3/2017 | 3 | 38 | 15 | 395 | 420 | 540 | 430 |
| Q4/2017 | 7 | 37 | 18 | 340 | 430 | 625 | 445 |
| Q1/2018 | 4 | 43 | 27 | 350 | 430 | 550 | 460 |
| Q2/2018 | 2 | 36 | 16 | 372.5 | 440 | 550 | 467.5 |
| Q3/2018 | 5 | 38 | 12 | 400 | 430 | 530 | 440 |
| Q4/2018 | 4 | 38 | 29 | 355 | 440 | 595 | 470 |
| Q1/2019 | 7 | 37 | 24 | 360 | 460 | 600 | 490 |
| Q2/2019 | 2 | 30 | 20 | 330 | 450 | 525 | 475 |
| Q3/2019 | 1 | 24 | 16 | 385 | 450 | 617.5 | 495 |
| Q4/2019 | 4 | 27 | 24 | 350 | 450 | 555 | 470 |
| Q1/2020 | 3 | 36 | 26 | 395 | 450 | 565 | 475 |
| Q2/2020 | 4 | 28 | 19 | 365 | 455 | 525 | 470 |
| Q3/2020 | 4 | 29 | 19 | 420 | 465 | 550 | 477.5 |
| Q4/2020 | 1 | 27 | 20 | 390 | 490 | 562.5 | 517.5 |
| Q1/2021 | 5 | 26 | 15 | 390 | 485 | 600 | 505 |
Non-School Qualification
| Response | Count |
| --- | --- |
| Infants/Primary | 640 |
| University | 523 |
| Secondary Education | 437 |
| Not Stated | 407 |
| Technical/Further | 143 |
| Pre-school | 111 |
| Other | 68 |
Employment (2011)
| Response | Count |
| --- | --- |
| Full-Time | 2,884 |
| Not in the labour force | 2,065 |
| Part-Time | 1,249 |
| Labour force status not stated | 324 |
| Employed: away for work | 205 |
| Unemployed, looking for work | 198 |
Occupation
| Response | Count |
| --- | --- |
| Professionals | 1,247 |
| Clerical and Administrative Workers | 754 |
| Technicians and Trade Workers | 625 |
| Community and Personal Service Workers | 605 |
| Managers | 568 |
| Sales Workers | 431 |
| Labourers | 303 |
| Machinery Operators and Drivers | 174 |
| Inadequately Described/Not Stated | 78 |
Method of Travel to Work
| Response | Count |
| --- | --- |
| Car (driver) | 2,908 |
| Did not go to work | 478 |
| Bus | 229 |
| Train | 220 |
| Car (Pas.) | 210 |
| Worked at home | 178 |
| Walked only | 91 |
| Train & Car (driver) | 83 |
| Motorbike/scooter | 80 |
| Bicycle | 75 |
| Other two | 36 |
| Train & Bus | 34 |
| Truck | 27 |
| Other | 24 |
| Not Stated | 20 |
| Train & Car (Pas.) | 19 |
| Bus & Car (driver) | 15 |
| Taxi | 15 |
| Train & other two | 15 |
| Bus & Car (Pas.) | 10 |
| Bus & Other | 3 |
| Bus & Ferry | 0 |
| Bus & Tram | 0 |
| Bus & other two | 0 |
| Ferry | 0 |
| Other three | 0 |
| Train & Ferry | 0 |
| Train & Other | 0 |
| Train & Tram | 0 |
| Tram | 0 |
Recent articles you may like:
VLOG – What is Off Market, and how does it work

This video explains what the term off market means within Queensland Australia. The things that impact it. And why it is sometimes suggested by real […]

New Real Estate office in Everton Hills

It's less than a year ago that MovedBy Real Estate was registered and started trading. In that short time we have listed a lot of property for sale and rent. And it's inevetable that with our success that we outgrew our previous premises very quickly.

Everton Park: The old Woolworths Sofles Warehouse Site

The now redeveloped big old Woolworths warehouse site in Everton Park was set on a huge site with a number of buildings on the property