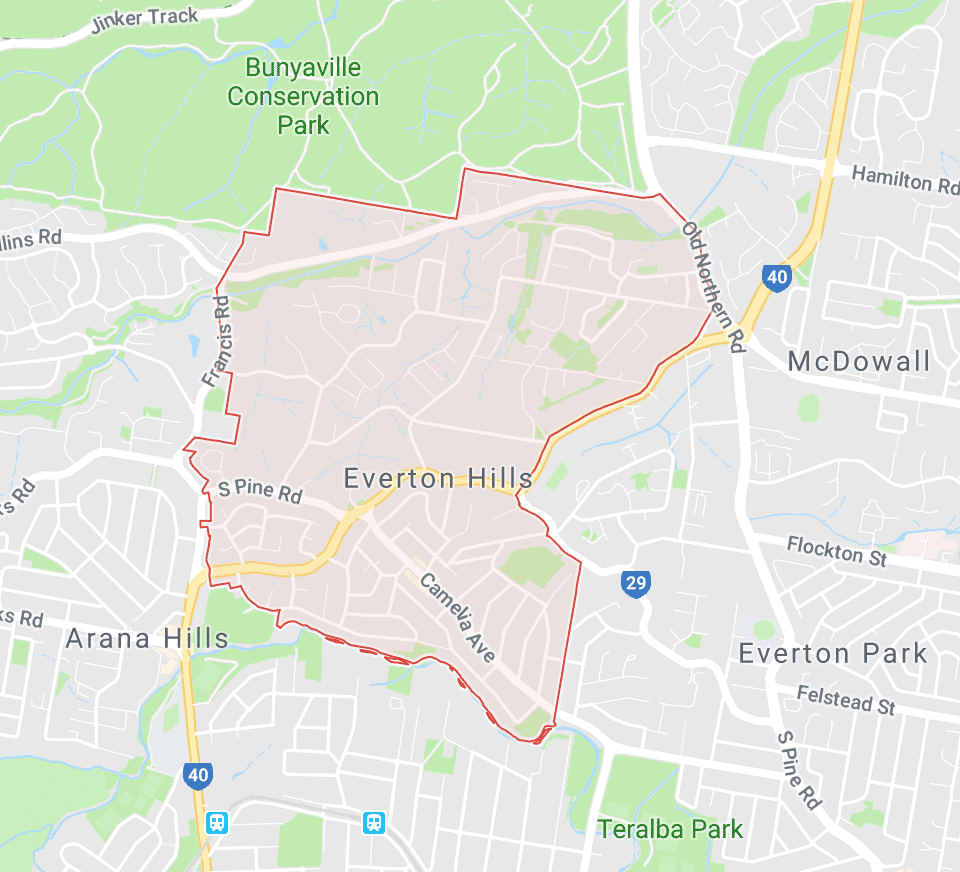 Everton Hills is a suburb in the Moreton Bay Region, Queensland, Australia.
Located in the north-west of the Brisbane metropolitan area, the suburb extends northwest from Everton Park; this separation of suburbs is marked by a park called 'Boundary Park'. Everton Hills' southern boundary runs along the Kedron Brook, separating it from Mitchelton. It is also located at the edge of the Bunyaville Forest Reserve. Informally it is part of the Hills District.
In the 2011 census, Everton Hills recorded a population of 5,812 people, 50.7% female and 49.3% male. The median age of the Everton Hills population was 35 years, 2 years below the national median of 37.
Everton Hills is situated in the Yugarabul traditional Aboriginal country.
Everton Hills takes its name from its neighbouring suburb Everton Park which in turn was named after the residence of pioneer settler Ambrose McDowall, who named his residence after Everton, a suburb in Liverpool, England.
In the 1890s, the town of Bunyaville was located north of South Pine Road in the present-day suburbs of Everton Hills and Everton Park. Until 1891, it was known as Kedron after Kedron Brook which flows through the area.
Prince of Peace Lutheran College opened on 3 January 1984. The Prince of Peace Lutheran Church opened adjacent to the school in 1986, having been previously located in Maundrell Terrace, Chermside West.
Prior to 2008, Everton Hills was in the Pine Rivers Shire, now amalgamated into Moreton Bay Region.
Sales & Growth Chart for EVERTON HILLS
| Year | No. of Sales | Median | Growth | Low | High |
| --- | --- | --- | --- | --- | --- |
| 1993 | 114 | $129,750 | | $58,600 | $414,000 |
| 1994 | 97 | $135,000 | 4.0% | $60,000 | $345,000 |
| 1995 | 101 | $130,000 | -3.7% | $21,000 | $325,000 |
| 1996 | 110 | $126,250 | -2.9% | $25,000 | $275,000 |
| 1997 | 99 | $133,000 | 5.3% | $15,900 | $1,480,000 |
| 1998 | 94 | $140,000 | 5.3% | $67,500 | $600,000 |
| 1999 | 120 | $135,550 | -3.2% | $60,000 | $280,000 |
| 2000 | 125 | $142,500 | 5.1% | $12,750 | $700,000 |
| 2001 | 141 | $162,000 | 13.7% | $62,500 | $485,000 |
| 2002 | 141 | $205,000 | 26.5% | $93,000 | $656,000 |
| 2003 | 115 | $265,000 | 29.3% | $59,981 | $489,000 |
| 2004 | 100 | $314,250 | 18.6% | $205,000 | $1,728,928 |
| 2005 | 98 | $311,000 | -1.0% | $200,000 | $1,090,000 |
| 2006 | 123 | $335,000 | 7.7% | $205,000 | $1,520,000 |
| 2007 | 134 | $395,000 | 17.9% | $280,000 | $1,110,000 |
| 2008 | 89 | $444,500 | 12.5% | $241,500 | $1,080,000 |
| 2009 | 94 | $437,750 | -1.5% | $295,000 | $680,000 |
| 2010 | 90 | $475,000 | 8.5% | $360,000 | $1,100,000 |
| 2011 | 74 | $457,500 | -3.7% | $340,000 | $1,200,000 |
| 2012 | 79 | $445,000 | -2.7% | $315,000 | $727,500 |
| 2013 | 86 | $470,000 | 5.6% | $325,000 | $1,675,000 |
| 2014 | 92 | $496,000 | 5.5% | $400,000 | $1,330,000 |
| 2015 | 93 | $525,000 | 5.8% | $272,000 | $1,620,000 |
| 2016 | 113 | $547,500 | 4.3% | $300,000 | $6,000,000 |
| 2017 | 91 | $575,000 | 5.0% | $425,000 | $3,022,727 |
| 2018 | 81 | $601,000 | 4.5% | $430,000 | $895,000 |
| 2019 | 89 | $580,000 | -3.5% | $350,000 | $1,115,000 |
| 2020 | 104 | $614,250 | 5.9% | $280,000 | $990,000 |
| 2021 | 115 | $830,500 | 35.2% | $465,000 | $1,600,000 |
| 2022 | 27 | $940,000 | 13.2% | $560,000 | $1,545,000 |
Price Range Segmentation (Last 12 Months)
Peak Selling Periods (Last 3 Years)
Rental & Growth Chart for EVERTON HILLS
Recent Articles you might like:
VLOG – What is Off Market, and how does it work

This video explains what the term off market means within Queensland Australia. The things that impact it. And why it […]

New Real Estate office in Everton Hills

It's less than a year ago that MovedBy Real Estate was registered and started trading. In that short time we have listed a lot of property for sale and rent. And it's inevetable that with our success that we outgrew our previous premises very quickly.

Everton Park: The old Woolworths Sofles Warehouse Site

The now redeveloped big old Woolworths warehouse site in Everton Park was set on a huge site with a number of buildings on the property